The Machine Learning journal invites submissions on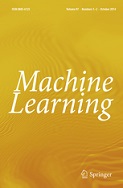 Discovery Science – a research discipline concerned with the development and analysis of methods for discovering scientific knowledge, coming from machine learning, data mining, and intelligent data analysis, as well as their applications in various scientific domains. Submissions focusing on the analysis of different types of complex data, such as structured, spatio-temporal, network and social-network data are welcome. Submissions addressing applications in scientific domains, such as environmental and life sciences are also welcome. Finally, submissions from the areas of computational scientific discovery, mining scientific data, computational creativity and discovery informatics are encouraged.
Topics of interest:
computational scientific discovery
data mining and knowledge discovery
machine learning and statistical methods
computational creativity
mining scientific data
data and knowledge visualization
knowledge discovery from scientific literature
mining text, unstructured and multimedia data
mining structured and relational data
mining temporal and spatial data
mining data streams
network analysis
discovery informatics
discovery and experimental workflows
knowledge capture and scientific ontologies
data and knowledge integration
logic and philosophy of scientific discovery
applications of the above methods in various scientific domains (e.g., bioinformatics, system biology, and environmental informatics)
All papers will be reviewed following standard reviewing procedures for the Machine Learning journal. Papers must be prepared in accordance with the Journal guidelines: http://www.springer.com/10994
Schedule:
| | |
| --- | --- |
| Paper submission: | 31st March 2017 |
| First notifications: | 15th May 2017 |
| Second Round (deadline for submissions): | 15th June 2017 |
| Second Round of notifications: | 30th July 2017 |
| Expected publication: | October 2017 (online) |
Submission instructions:
Resources for journal authors, including templates and style files, as well as frequently asked questions can be found at: Journal Author Resources.
Springer does not require authors to submit their papers in a prescribed template. If the paper is accepted for publication the source files will be converted by the typesetter and prepared in Springer's format for our online platform, SpringerLink.
An article is submitted to the Discovery Science 2016 special issue by choosing "S.I. : Discovery Science 2016" as the article type.
Guest editors:
Michelangelo Ceci – University of Bari Aldo Moro, Italy
Toon Calders – Université Libre de Bruxelles & University of Antwerp, Belgium